A strongly… welcoming museum!
Maison Louis-Cyr, originally known as the Louis-Cyr Museum, is located in Saint-Jean-de-Matha, in the Lanaudiere region. Close to Montreal, the museum has undergone a facelift, in addition to continually create new projects.
Take a foray into the life of the strongest man of all time in an ancestral home that was actually inhabited by Louis Cyr and his family: La Maison Louis-Cyr. Learn all about the life of Louis Cyr, his exploits and his time and immerse yourself in this universe where history and passion come together.
Thanks to our two-part main exhibition, you will be able to visit the reconstruction of the period house, as well as explore our contemporary exhibition. Discover the fascinating story of the man who was consecrated the strongest in the world in his time and whose exploits have yet to be matched even 150 years after his birth!
Presented in French and in English, the visit of the main exhibition will allow you to discover various aspects of Louis Cyr's life, from his childhood to circus life, including his travels and his exploits.
Try our fun and heritage tour which will allow you to discover, on foot, the adopted village of Louis Cyr as it was at the start of the 20th century.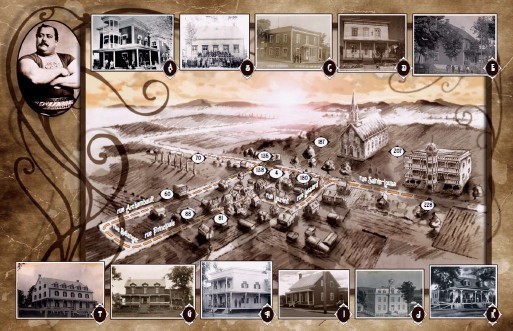 Did you know that Louis Cyr ran a circus of 136 people, traveled all over the United States, visited England, and was one of the richest men of his time?...
Maison Louis-Cyr, being one of the houses that was actually inhabited by Louis Cyr at the time, first of all offers you in its first part a reconstruction of the...
Maison Louis-Cyr is waiting for you!